Complete Mortgage Broker Service
"I love what I do, because for years I have been able to help my clients live a better life.  I make it my personal mission to get them their dream home or simply reduce their monthly debts."
– Michelle, Mortgage Broker Since 2008
Why Work with Michelle?
Experienced with successful mortgage approvals since 2008
Exclusive access to Credit Unions
Kelowna born and raised
Very familiar with the area, in working with freehold and native land
Special status with Lenders for better rates, rebates & special promotions
Expertise in working with alternative lenders offering outside-of-the-box financing
Knowledgeable in credit counseling for clients looking to improve credit scores
Ongoing service dealing with the lender on behalf of the client even after the mortgage funds.
Learn More about Kelowna Mortgages
Latest News
Take a look at all the latest news from the mortgage industry – special rates, federal government rule changes, qualification updates, property transfer tax rules, reverse mortgages, and much more.
Testimonials
Over 8 years of experience and hundreds of happy clients.
Candice and I want to thank you so much for all your hard work throughout the whole process of buying our first home. You made the experience much easier and a lot less stressful…
Michelle was so great when my wife and I decided to buy a new home. We loved her "let's get it done attitude". She let us know what we needed to do, gave us…
As this was my first mortgage, I was very nervous about understanding the transaction. You were more than helpful in explaining things to me in terms I could easily understand. Even when you needed…
Mortgage Broker Kelowna
Michelle is a mortgage specialist in Kelowna BC. Mortgage Brokers help homeowners or those purchasing a home find the best financing at the best rate.
For the most part, mortgage brokers operate on behalf of the borrower and the banks compete for mortgages depending.  Rates vary depending on how aggressive banks are in any particular market at any particular time.
Mortgage brokers like Michelle allow several banks to bid for your business in a competition that only requires one credit check.  It's a valuable service for any new homeowner or anyone that already owns a property and wants to know they are getting the best rate available in the market.
Another valuable service offered by mortgage brokers is finding financing in more difficult situations.  Income from self-employment is just one example of the difficulty banks can impose on non-traditional or non-T4 income.
In more extreme cases, private lenders could become involved.  Michelle's duty to her clients is to get them into a mortgage at the best possible rate and that's what she does.
Private Mortgage Lenders Kelowna
Canadian banks are subject to many government regulations, which turn many people away from banks and towards less regulated private lenders.  A private mortgage or loan may be the preferred option, depending on the circumstances.
Private mortgage lenders are typically used in situations where banks are unwilling or unable to lend money for your mortgage because of past bankruptcy proceedings, poor credit, or questions about income.  Private lenders are an alternative option for borrowers.
Private mortgage lenders can arrange 1st & 2nd Mortgages on residential & commercial properties, and it is possible to get fast approvals & funding for all types of projects with lesser qualifications required when compared to a bank.
Commercial Mortgage Broker Kelowna
A commercial mortgage broker usually deals with office, industrial, retail and rental apartment properties and can generally connect you to a number of lenders in the required area. A lender will assess the risk associated with individual properties.
Commercial Mortgage solutions for all types of properties.  Arrange construction loans, purchase or refinance funding, land financing for all types of properties including mixed-use, multi-family, retail plazas, industrial, office, medical building, self-storage, hotel, motel, and more.
Whether you're buying an apartment building or renovating your office complex, getting the right financing for your business's real estate needs can save you thousands of dollars or more over the long run.
Mortgage Calculator
Discover how much mortgage you can afford, compare mortgage rates and find out all you need to know for your next home purchase with our mortgage calculators. – simple mortgage calculator, with extra payments, amortization, or variable down payment.
The minimum down payment in Canada is 5%. For down payments of less than 20%, home buyers are required to purchase mortgage default insurance, commonly referred to as CMHC insurance.
Mortgage Broker Fees
The best part about clients working with a mortgage broker is that our interests are very aligned.  Mortgage Brokers are 100% commission-based, and our job is to make sure we get our client the best possible rate and mortgage product once it comes time to put the mortgage into action.
At that time, it is the mortgage lender who pays the mortgage broker's fee for bringing the business, not our client.  At the end of the day, the mortgage broker is working hard to get their client approved, so the client wins and so does the mortgage broker in the end. This is the case for "A" lending.
When it comes to alternative lending, such as "B" lenders and private lenders, the fees can change.  These types of lenders are used in a situation where a client does income qualify based on "A" lending guidelines but has additional risk.
Since these lenders are taking on greater risk, there is an additional fee on top of the mortgage rate offered.  They can vary from 1% – 2% of the mortgage amount.
"B" lenders typically pay the mortgage broker half of what they would earn from an "A" lender.  It is up to the mortgage broker's description if they also choose to charge the client a fee to top up compensation.
Private lenders do not pay mortgage brokers at all, so the mortgage broker also would need to charge a fee in order to be paid for the work done.  Again, fees from .5% – 2% would be the range of what the average mortgage broker would charge on an alternative lending deal.
Kelowna Mortgage Rates
The mortgage calculator offers rates for Kelowna, BC, and all of Canada.  If you are concerned about whether mortgage rates are rising or falling, talk to Michelle.
Office Location Directions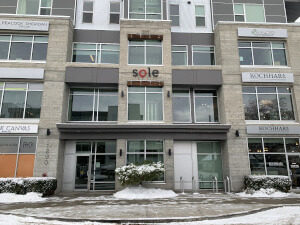 #316-1290 St Paul Street
Kelowna, BC
V1Y 2C9
 From West Kelowna
Cross the bridge to Kelowna, then continue along Harvey Avenue until you reach Ellis and turn left.  Turn right at Bernard Ave and first left again on St Paul street. The building is on your left and street parking is available.
From Vernon
Follow Hwy 97 as it turns into Harvey Avenue. Turn right on Richter st, left on Doyle Ave, and right on St Paul Street. The building is on your left, and street parking is available.
Nearby Mortgage & Real Estate Resources
BC Land Title office locations
Kelowna BC
Kelowna is a city located in the Okanagan Valley in south-central British Columbia, Canada's western-most province. Kelowna is about two hours north of the US border that crosses into Idaho. The city is built on Lake Okanagan, a lake that stretches about 150 kilometres in length and is said to be as deep as 800′ in some places.
Kelowna is surrounded by orchards and vineyards, mountains, forests, and provincial parks. Downtown Kelowna incorporates a waterfront park, City Park, and also includes what is said to be the largest inland marina in Canada. Kelowna and the Okanagan Valley used to be well known for fruit orchards but over the past few decades, the explosion of wineries has gained Kelowna a worldwide presence in the wine world as many of the wineries win international awards for their high-quality wines.
The wineries also contribute heavily to the tourism industry in Kelowna and the Okanagan Valley. Wine tours and wine tastings have grown in popularity as the wineries became more plentiful. The financial contribution of tourism to Kelowna's economy reached the billion-dollar mark in 2016. There are hundreds of wineries and vineyards operating in Lake Country and south to Osoyoos near the US border.
The largest employer in Kelowna is the service industry, which is typical of a tourist-oriented area. Boating, hiking, golf, and mountain biking are very popular summer pastimes, while both Alpine and Nordic skiing are popular winter activities. Kelowna boasts "Champaign powder" at two major resorts – Big White near Kelowna and Silver Star near Vernon.
Post-secondary education is available from Okanagan College and the University of British Columbia Okanagan (UBCO) established a new campus in Kelowna in the 2000s. Both of those institutions boast enrollment at about 9,000 each. The college offers vocational training and adult education but is also recognized for its business program and university transfer program. UBCO has similar offerings as UBC in Vancouver – it's a diverse program of undergraduate and graduate degree programs.